System Overview
The MSC multiple support provides support profiles of various cross-sections, 50x50, 100x100 triangular supports and 50mm, 100mm U-shaped supports, etc.
---
The MSC support is a flexible, light-weight and cost-saving support system suitable for all major disciplines, including electrical, instrumentation, telecommunications, HVAC and plumbing. MSC series profiles have a variety of profiles, grades and materials to choose from to suit any application, but they all have the same high-quality engineering solutions. Compared with traditional welding supports, the MSC series support systems are significantly lighter, faster to install, safer and more cost-effective in construction.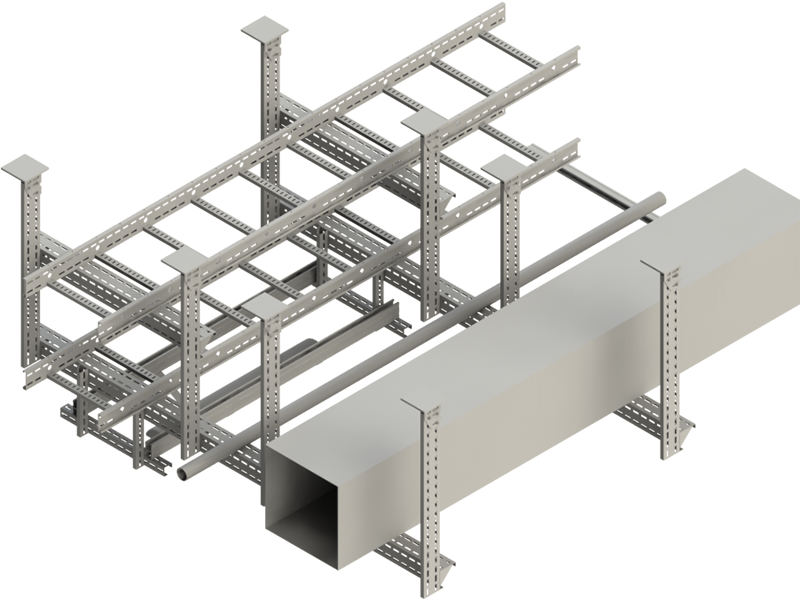 Basic Parameters
| | |
| --- | --- |
| Material | Mild steel/SS316L/Pre-gal steel |
| Finish | HDG/Pickling passivation/Electroplate/Powder coating |
| Certification | UL/CE/GOST-R/ABS/CSA/SGS/BV/DNV |
| Width | FAC50,FAC100,UC100,UC50,AB60,UAC-40x60 |
| Height | / |
| Length | 3000mm/6000mm |
Standard Support
MSC supports provide 100x100, 50x50 triangular supports, 100x25 U-shaped supports, various L-shaped equilateral or unequal sides supports.
Welding Starter Grid System
The MSC supports welding starter grid system through the layout during the initial construction and all subsequent renovation or upgrade work, which can maximize the flexibility in design and installation.
Back to Back Connecting
All support are connected back-to-back with self-locking bolts, no additional connection accessories are needed, and installation is convenient.