Materials Finishes
| | | | |
| --- | --- | --- | --- |
| Stainless Steel 316L | SS316L | ASTM 316L | Pickling passivation |
| Stainless Steel 304 | SS304 | ASTM 304 | Pickling passivation |
| Carbon steel | HDG | Q235B(China standard) | Hot dipped galvanize |
| Pre-galvanized steel | PG | Q235B(China standard) | / |
| Powder coating steel | PC | Q235B(China standard) | Powder coating |
| Electroplated Zinc | EZ | Q235B(China standard) | Electroplated Zinc |
| Aluminum | AL | 6063-T5 | Anodizing |
| Composite | FRP/GRP | Multiple | / |
Stainless steel
Stainless steel forms a protective chromium oxide layer when the alloy is exposed to air, hindering direct contact between the alloy and the corrosive environment. If a stainless steel component is damaged, a new chromium oxide layer forms, effectively re-sealing the damaged area.
Pickling and Passivation
All of our welded products are "Pickled and Passivated". This is a process to remove the heat tint that is created during welding. The heat tint is produced by an increase in the density of chromium at the surface and a corresponding decrease in the area below. As a result, the affected region is vulnerable to corrosion and less aesthetically pleasing. Both problems are efficiently solved through "Pickling and Passivation". This allows a new protective chromium oxide layer to be established.
Carbon steel
Mild steel (iron containing a small percentage of carbon, strong and tough but not readily tempered), also known as plain-carbon steel and low-carbon steel, is now the most common form of steel because its price is relatively low while it provides material properties that are acceptable for many applications. Mild steel contains approximately 0.05–0.30% carbon[1] making it malleable and ductile. Mild steel has a relatively low tensile strength, but it is cheap and easy to form; surface hardness can be increased through carburizing.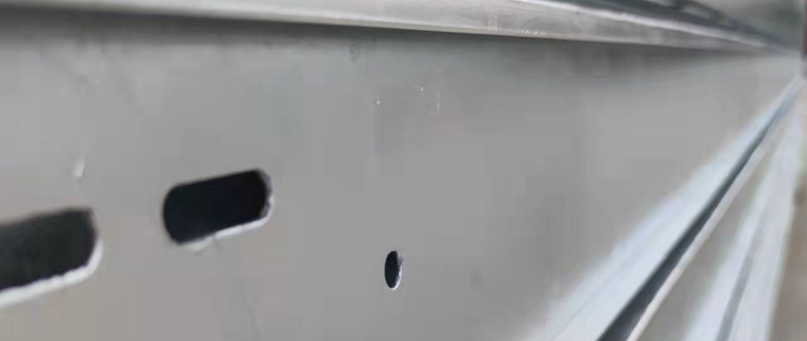 Hot dipped galvanized
Hot dip galvanized steel is coated by a protective layer of zinc. The zinc layer offers good protection against most corrosive environments. This is due to its low electrode potential, which allows it to act as a sacrificial anode. The zinc therefore corrodes slowly instead of the material it protects. Our HDG steel components are made in accordance with European standard EN ISO 1461 and . In accordance with the standard, components in material thickness from 1.5 - 3.0 mm receive a minimum 45 µm coating. EN ISO 12944-2 offers guidance that a zinc coating of 45 µm delivers corrosion protection in the order of 21-64 years in an environment with corrosion class C3.
Pre-galvanized
Pre Galvanized steel has been subjected to a process whereby sheet steel is coated with a thin layer of zinc which gives it a bright appearance. This zinc layer of 20 µm thickness in accordance with EN 10346, offers protection due to its low electrode potential and slow corrosion rate. As the process is carried out on raw materials prior to cutting and bending, PG is a cost efficient process. Products in PG are suited for installation in low corrosive environments.
Powder coating
Powder coating is a type of coating that is applied as a free-flowing, dry powder. Powder coating is typically applied electrostatically and then cured under heat or with ultraviolet light. Where aesthetics or additional surface protection are relevant, some products can be supplied with surface coatings such as epoxy powder coating. These coatings are available in a wide range of colours on request. Coated productsmay require additional grounding.

Electroplated Zinc
Electrogalvanizing is a process in which a layer of zinc is bonded to steel in order to protect against corrosion. The process involves electroplating, running a current of electricity through a saline/zinc solution with a zinc anode and steel conductor. Such Zinc electroplating or Zinc alloy electroplating maintains a dominant position among other electroplating process options, based upon electroplated tonnage per annum. Compared to hot dip galvanizing, electroplated zinc offers these significant advantages: 1)Lower thickness deposits to achieve comparable performance. 2)Broader conversion coating availability for increased performance and colour options. 3)Brighter, more aesthetically appealing, deposits.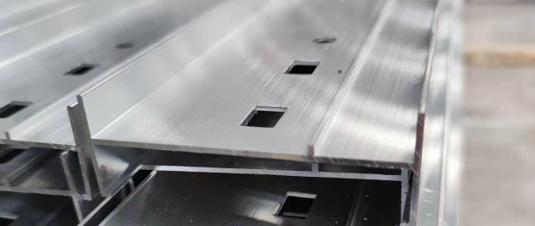 Aluminum
Aluminum cable trays are fabricated from structural grade copper free (marine grade) aluminum extrusions.Aluminum's excellent corrosion resistance is due to its ability to form an aluminum oxide film that when scratched or cut reforms the original protective film. Aluminum has excellent resistance to weathering in most outdoor applications.Aluminum cable tray has excellent corrosion resistance in many chemical environments and has been used for over thirty years in petrochemical plants and paper mills.Typically, aluminum cable tray scan performs indefinitely, with little or no degradation over time, making it ideal for many chemical and marine environments.The resistance to chemicals, indoor and outdoor, can best be determined by tests conducted by the user with exposure to the specific conditions for which it is intended.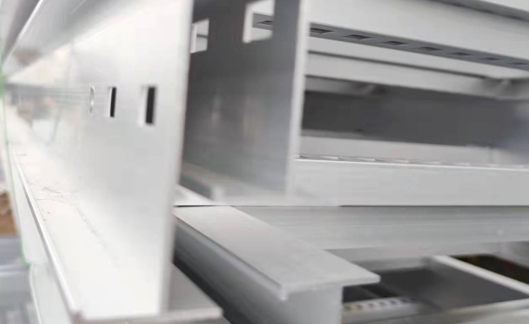 Anodizing
Anodizing is an electrochemical process that converts the metal surface into a decorative, durable, corrosion-resistant, anodic oxide finish. Aluminum is ideally suited to anodizing.When exposed to air at room temperature, or any other gas containing oxygen, pure aluminium self-passivates by forming a surface layer of amorphous aluminum oxide 2 to 3 nm thick, which provides very effective protection against corrosion. Aluminium alloys typically form a thicker oxide layer, 5–15 nm thick, but tend to be more susceptible to corrosion. Aluminium alloy parts are anodized to greatly increase the thickness of this layer for corrosion resistance.
Composite
Fibre-reinforced plastic (FRP; also called fiber-reinforced polymer, or fiber-reinforced plastic) is a composite material made of a polymer matrix reinforced with fibres. The fibres are usually glass (in fibreglass), carbon (in carbon fiber reinforced polymer), aramid, or basalt.
Solutions